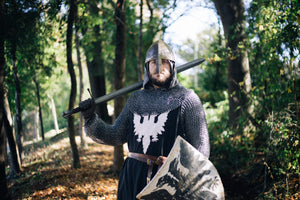 Where history meets fashion in every stitch.
At Fell & Fair, we are passionate about transporting you back in time to the enchanting era of knights, royalty, and chivalry. We are dedicated to crafting the finest medieval costumes that evoke the essence of the Middle Ages, ensuring every detail, from fabric to design, is historically accurate. Whether you're seeking the perfect attire for Renaissance faires, themed events, or theatrical performances, Fell & Fair costumes are a testament to craftsmanship, authenticity, and a deep love for medieval history. Explore our exquisite collections and let your imagination journey through the annals of time as you embrace the past in style with Fell & Fair.
The Ranger Collection
The Medieval Ranger's attire is both practical and evocative of his deep connection to the wilderness. Each element of his clothing serves a specific purpose, making it the perfect garb for an explorer of the woods and a master of stealth.
SHOP NOW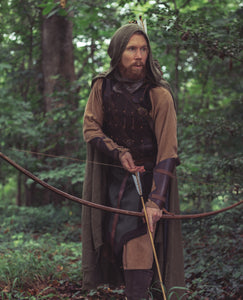 Production Time & Shipping
Every item you find here at Fell & Fair is made to order by hand & shipped from Taylors, SC, USA.

Due to the handmade nature of our products, our current production time is 5-7 business days for most garments and 3-5 business days for linen cloaks from the day of your order.